Regardless of what season it is, the birds in your yard are probably searching for food to either feed themselves or their young babies.
Adding a bird feeder to your backyard can be a great way to help these little creatures thrive; plus, they can also add some color to your patio!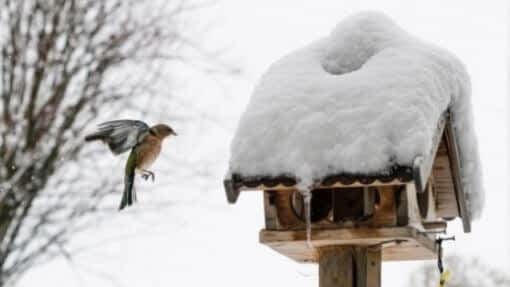 Whether you want to buy one from a store or attempt to make one yourself, Mother Nature will be thrilled that you are doing your part to keep nature going. There is nothing more joyful than hearing the sounds of healthy birds chirping and singing near your windows!
In this article, we will tell you how you can make two homemade bird feeders from items you probably already have in your home. In addition to that, you can check out our top five best recycled bird feeder ideas made right here in the USA.
So, whether you are looking to attract more Orioles, Finches or other kinds of colorful birds, you'll have all the info needed to bring them to your backyard for feasting!
How do you make a recycled bird feeder?
There are plenty of ways to make a recycled bird feeder for your yard. You can use orange peels to hold seeds easily, old beer or various sized wine bottles can make unique bird feeders, as well as recycle plastics, such as empty soda or water bottles.
Some people like to get creative and use antique china to create beautiful teacup looking bird feeders where the saucer can hold all the nuts and seeds. You can even use peanut butter with old pine cones to keep the birdseed on each ledge of the cone.
The ideas and suggestions for making bird feeders by recycling some household items are endless. However, we want to share with you the two easiest ones you can make yourself today.
Keep reading to find out which two you can do as a great DIY bird feeder project, or take a look at our top five bird feeders we recommend buying if you want to avoid making your own.
7 Recycled Bird Feeder Ideas | 2 DIY Ideas
Below are the two most straightforward ways to make a recycled bird feeder yourself at home. These DIY projects are simple, and even kids can participate and learn how to take care of nature without going overboard on supplies.
DIY Idea #1 – Make a Bird Feeder from a Soda Bottle
If you want to help save our planet, then you can use some of your leftover soda or water bottles to make a bird feeder. Not only is this DIY idea easy to implement, but also a feeder made this way looks pretty cute and works perfectly for feeding any kind of bird that comes to your balcony or front yard!
Here's what you'll need:
Plastic bottle (20 oz or larger)
2 wooden spoons
Scissors
Craft knife
Marker (sharpie)
Floral wire (optional)
Step 1 – Use your marker to draw a small circle on one side of the bottle; try to make it about three to four inches from the bottom of the bottle. Use your craft knife to cut the circle out and check to see if the end of your wooden spoon fits snugly in the hole. Adjust accordingly, if required.
Step 2 – Now, cut a larger hole directly across from it so that the spoon side can rest easily on the plastic. You can use your scissors or craft knife to make it fit perfectly.
Step 3 – Repeat this process about an inch or two below your first holes so that you can place the second spoon in that spot. Make sure you use the opposite side of the spoon for the second hole so that each spoon is facing a different direction.
Step 4 – Fill the plastic bottle with your favorite homemade birdseed or one that you purchased. You'll want to do this over the grass or an area that is easy to clean up.
Step 5 – Use the floral wire to make a hanger around the top of the bottle if you want to hang your new bird feeder. If not, find a nice location to place your bird feeder in that the squirrels can't easily access!
DIY Idea #2 – Use a Milk Carton to Make a Bird Feeder
Making a bird feeder out of a milk or juice carton is super easy and can be a ton of fun, especially for kids. Depending on how elaborate you want to go, you can either paint the entire carton and make an owl or any other animal out of it, or just roll with the design already on it.
Here's what you'll need:
Empty milk or juice carton
Scissors or craft knife
Popsicle stick
Paint or markers (optional)
Craft eyes; glue (optional)
Step 1 – If you want to paint or draw pictures on your milk carton, you should first do this before proceeding to the next step.
Step 2 – Use your craft knife to cut a 5" circle in the front (the belly if making an animal) and on each side poke a hole and then cut straight up for the side openings (wings). However, do not cut across the top of the wings; you essentially want it to look like a flap that can be propped open.
Step 3 – If making an animal, you can glue on the eyes towards the top and any other decorations you want to add. You can poke a hole in the top if you're going to hang it, or just place it in whatever area you want to feed your birds.
Tip: Plastic bottle caps make excellent eyes!
Step 4 – Fill it up with your homemade birdseed or whatever food you plan on feeding your feathery friends with, and then you can enjoy watching them come and eat.
However, if you are looking for something with a little more style, then check out our top picks below for the best quality bird feeders that are all made in the USA!
All five of these options can add character to your backyard or garden while being an essential tool for helping birds get the food and nutrition they need. We are certain, each bird that will come to your garden will appreciate the gesture.
Top 5 Quality Bird Feeders – All Made in the USA
#1 Poly-Recycled Oriole Feeder
This bird feeder is perfect for anyone looking to use orange peels, birdseed, or both to feed the birds in their backyard. It is a beautiful orange color that attracts Orioles and other birds, and comes with two pegs for holding the fresh orange halves.
There are also two removable cups that you can place nuts, seeds, jelly and other nutritious foods for all the local birds in your area. This bird feeder is durable and won't fade, crack or split! You can plan on using this feeder year after year to feed all the birds in your backyard.
What we liked best:
Simple design with clear acrylic cover
Recycled poly-lumber construction
Easy to assemble
Made in the USA
#2 JC's Wildlife Hourglass Jelly and Double Fruit Oriole Bird Feeder Recycled Poly
If you want to attract Orioles, this feeder will do the trick! The look and design of this bird feeder are fabulous and would add character to any backyard space. It gives a nice twist on the traditional birdhouse design and can feed birds in one or two ways.
You can use the removable plastic cup for birdseed, or simply place fresh orange halves on the four pegs strategically placed throughout the feeder. Either way, you'll be sure to attract all the birds you want with this nifty feeder.
What we liked best:
Unique design with recycled poly
Rust-free with stainless-steel screws
Easy to install and hang
Made in the USA
#3 Kettle Moraine Recycled Single Oriole Orange Fruit Feeder
This bird feeder is durable and very well-made from heavy-duty wood. It's colored brightly orange to attract Orioles and is incredibly easy to use. It's delivered in one piece, and the only thing you need to do is install some oranges on it!
Furthermore, it's a great addition to any backyard and has an adorable design. It doesn't get much easier than this when wanting to attract and feed the local birds in your neck of the woods. The aluminum perches are a nice touch that will last for many years to come.
What we liked best:
Made from recycled materials
Perfect size with cute design
Simple to use
Made in the USA
#4 Birds Choice GSTF-YLW Green Solutions Recycled NYJER Finch Feeder, Yellow
If you are looking to attract and feed Finches, then this bird feeder is a perfect choice. It's made from quality recycled materials and won't split, crack or fade. It comes with a heavy-duty looped steel cable to make hanging your bird feeder super easy.
You'll be able to attract plenty of colorful birds to your yard with this simple design that uses welded wire mesh to dispense the birdseed. You can easily hang this from any tree branch, allowing the birds to feed on both sides.
What we liked best:
Made to withstand all weather conditions
Constructed from recycled materials
Brightly colored yellow to attract birds
Made in the USA
#5 Amish Poly Large Outdoor Bird Feeder Made in America (Turf Green ; Cherry Wood)
If you are looking for an eco-friendly design that can be customized and comes in multiple colors to choose from, this bird feeder is precisely what you are looking for. It's incredibly easy to use with its flip open style roof for filling it up with birdseed.
You'll also find that this bird feeder looks great in your backyard and is simple to clean. It's made in Northern Indiana and hand-crafted by Amish woodworkers. This is one bird feeder that all your guests will adore when visiting your home.
What we liked best:
Easy to refill with hinged lid
Aluminum mesh floor allows fast water drainage
Made from recycled materials
Made in the USA
Conclusion
Whether you decide to do a DIY project and make your bird feeder from recyclable products or if you choose to buy a cute design that is ready to go, you are essentially helping to save our environment.
In many cases, people don't realize the impact non-recyclable products have on the environment and how sometimes even nature can't stop the birds from eating harmful materials or substances.
So, thank you for making a difference in not just your local environment, but also for the whole planet. Feeding birds from recyclable bird feeders can be a fun way to show Mother Nature just how much you care!
So, thank you for making a difference in not just your local environment, but also for the whole planet.
Feeding birds from recyclable bird feeders can be a fun way to show Mother Nature just how much you care!