Mylar balloons are a great way to decorate a celebration venue if you have a special occasion happening.
Be it a baby shower, birthday gathering, wedding, Christmas celebration and so on, foil balloons will make the venue livelier and brighter.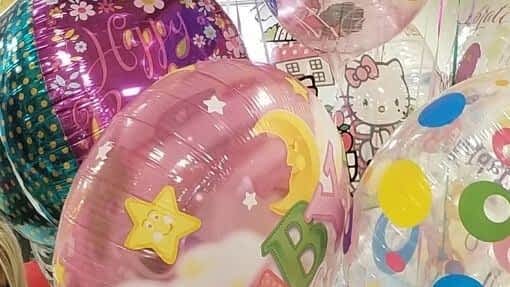 You can fill them with helium, and they will float, or if you want you can add air and tie them off for a balloon bouquet.
Once foil balloons are inflated, most people think they can't be reinflated! This post will share one easy solution to this issue, so you can reuse a balloon again and again.
Mylar balloons can easily be refilled by carefully sliding a straw into the tail valve with an inch left sticking out. Then simply blow your balloon up and reseal the flaps of the balloon, which can be used multiple times.
How to Deflate a Mylar Foil Party Balloon
Deflating a mylar or foil balloon is very simple. All that is required is a straw, and you're ready to deflate your balloon. Here's how to do it:
Insert the end of the straw into the valve of your balloon and allow 1 inch of tube space at the bottom.
Squeeze your balloon with your hands when you are ready for it to deflate. When you have finished squeezing all the air from inside your mylar or foil balloon, pinch off the tail, so it is sealed.
Now, fold your balloon up and store it away for your next big event. Your balloons can be packed away in a bag until the next time you want to refill them with air or helium again.
Are Mylar Foil Balloons Refillable?
Many people think that it's impossible to reinflate a mylar balloon, but it actually isn't. You can refill mylar balloons!
Of course, the easiest way to do so would be to hire or buy a helium bottle.
There are, however, a few other ways to reinflate a mylar balloon, when you don't have one of those bottles handy.
Below you'll find some ideas on how to inflate your foil balloons.
How Can You Inflate Mylar Balloons Yourself?
Foil balloons can be inflated using a couple of different techniques when a helium bottle isn't available. Not everyone would have one, if a balloon was given to them as a gift.
The first one that we would like to mention is to do so using a straw. Just like you used a straw when you deflated your balloons, simply reinsert the straw into the tail with an inch of tube left out of the balloon. Then, inflate the balloon with air by blowing into it.
Another way to inflate your mylar or foil balloon involves using an air compressor or tire pump. It's important that the correct sized nozzle is used; otherwise, there is a chance that your DIY refill attempt will not work. So, make sure that the nozzle of the tire pump or air compressor fits the valve of the balloon tightly, and then press the foot pump or turn on your compressor to inflate your mylar balloon.
Inflating foil balloons with helium is also possible, but you will either have to get hold of a helium bottle or you can take your balloons to your local party supplier, if you want to get them filled and don't want to DIY.
Can Mylar Balloons be Filled with Air?
As you have probably learnt by now, it is possible to reinflate mylar balloons with air, and you can inflate them using an air compressor, tire pump or just blowing air into them using a straw.
Just remember, if blowing foil balloons up by hand, a straw will be most helpful.
How do Mylar Balloons Seal?
Mylar balloons seal at the tail valve. The valve of the balloon has a sticky adhesive on each side of the hole, which seals both sides together. This is the seal that is pried open when deflating the balloon with a straw.
Fill your balloon using either of the methods described above and once it is full, all that is required is to remove the inflator or straw from the balloon and squeeze the two sides of the valve together to create a seal. The adhesive will again seal your balloon.
Why do Mylar Balloons Last Longer than Latex Balloons?
The reason this kind of balloon lasts longer than say latex balloons is due to the quality of the material they are made of. Mylar balloons are made from a substance called polyethylene terephthalate, which is a kind of nylon substance.
This is a man-made material that gives the balloon's their foil-like metallic appearance.
This substance is so durable that balloons can stay fully inflated for as long as a year. Whereas latex balloons will deflate a lot faster as they allow air to pass through them.
Mylar balloons or helium balloons are also very safe when used responsibly.
The substance does not react easily, which keeps the balloon from deflating prematurely like other styles of latex balloons do. It's also due to the fact that mylar ones are non-porous, which means they don't breathe allowing helium or air to escape.
Other balloons such as latex balloons are generally made from a latex rubber, which breathes and allows the balloon to deflate a lot faster. Want a balloon to last? Then, we would say mylar balloons are definitely the way to go for any party.
Why are Mylar balloons bad?
Made of a type of plastic which starts off the same way as a plastic bottle, mylar balloons are sometimes deemed bad because of this.
However, do your research, and you will easily find information that shows these balloons may not be so bad after all.
Read on, and you will see that mylar (foil) balloons are in fact recyclable.
Are Mylar Balloons Recyclable?
Yes, these balloons are fully recyclable. They are made from the type of plastic that takes on fewer impurities than other plastics, which means it can be recycled more times than other plastics.
Another reason, these types of balloons may be deemed as bad is that they can be hard to dispose of for recycling. Although, if you do search around there are places that will take it for recycling.
For example, TerraCycle is a recycling company in the USA and Canada that takes party decorations including balloons for recycling. Would you like to recycle yours? Then you could buy one of their Zero Waste boxes.
Once it arrives, fill it up with your mylar balloons and decorations and ship it back, so TerraCycle can recycle them.
Conclusion
So, don't throw that mylar balloon away just yet. Instead, make sure you wear them out first by filling them up plenty of times with helium or air, then use our suggestions above to properly dispose of your old mylar balloon.
That way your balloons can be safely recycled, and reused to make new products, while you will be able to buy more new mylar balloons knowing that your old balloons are staying out of the ocean and landfills.